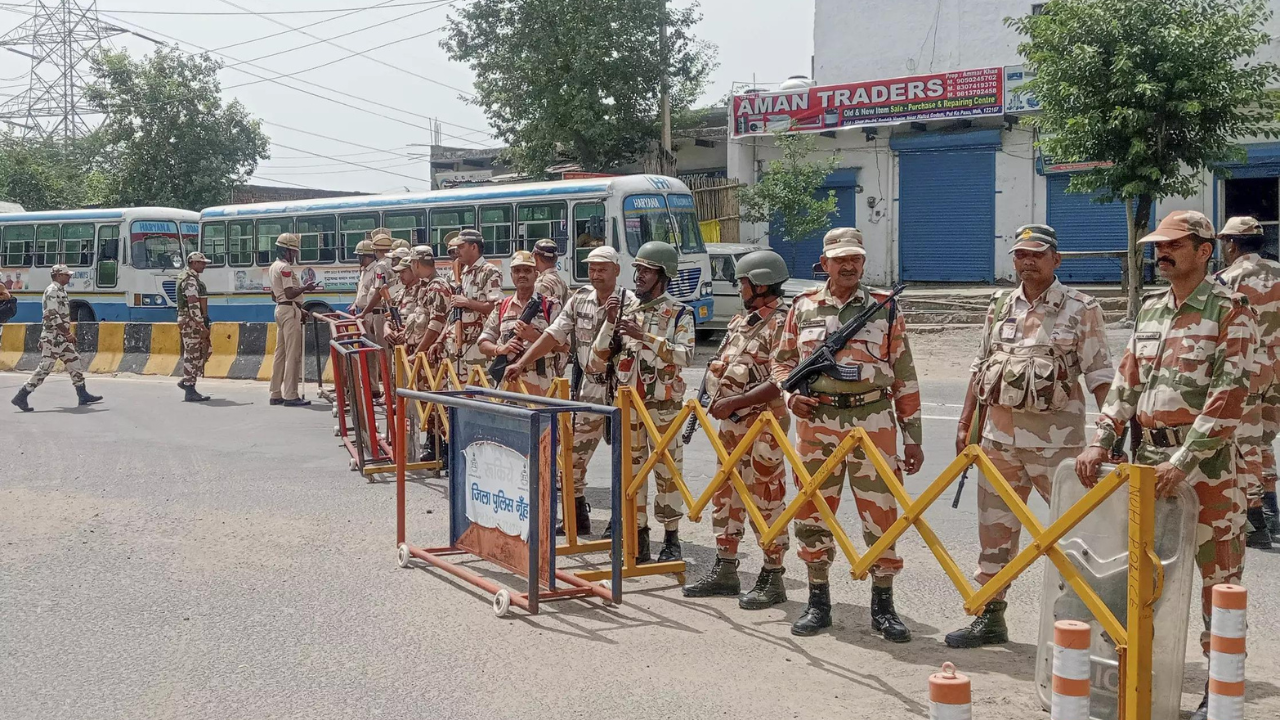 GURUGRAM: Mobile internet services were restored in Haryana's Nuh on Monday, accompanied by heightened security measures ahead of Independence Day.
The district had witnessed communal clashes two weeks prior, prompting authorities to initially halt mobile internet services until August 8. This suspension was subsequently prolonged until August 13.
The violence, which erupted on July 31, resulted in the tragic deaths of six individuals, including two home guards and a cleric. The turmoil originated when a procession organized by the Vishva Hindu Parishad (VHP) was attacked by mobs, later spreading to neighboring areas, including Gurugram.
In a positive turn, markets in the affected regions have resumed operations, with people once again frequenting them. Additionally, following a ten-day interval from the violence, the district magistrate issued directives to reopen all educational institutions, allowing schools to resume normal functioning.
Preparations are currently underway for Independence Day celebrations in Nuh, with police parade units diligently gearing up for the district-level event.
"People have got a lot of relief after the services of Haryana State Transport buses were restored and they are not facing any kind of problem in visiting other destinations. Now the situation is quite normal," Deputy Commissioner Dhirendra Khadgata said.
On Sunday, a 'mahapanchayat' organised by Hindu outfits at Pondri village in neighbouring Palwal district decided to resume on August 28 the VHP's Braj Mandal Yatra in Nuh that was disrupted after communal violence.
The mahapanchayat also made several demands, which included an NIA probe into the attack on the VHP yatra in Nuh on July 31 and declaring it a cow slaughter-free district.
Meanwhile, enhanced security measures have been put in place.
The Nuh Police is on a high alert ahead of Independence Day. Police said that like every year, Independence Day will be celebrated in Anaj Mandi, Nuh amid tight security. Moolchand Sharma, Minister of Transport and Mining Department of Haryana government, will hoist the flag.
Nuh Superintendent of Police Narender Bijarnia appealed to the public not to pay attention to rumours.
According to the spokesperson of Nuh Police, security has been stepped up in the district in view of Independence Day.
Barricades have been set up at different places, police check-points are on the lookout for suspects, vehicles are being checked and instructions have been issued by all the Station House Officers (SHOs) to patrol the crowded areas to keep an eye on anti-social elements in their areas.
"Along with this, places such as hotels, dharamshalas, markets, bus stands, railway stations and guest houses are being closely checked by the teams of police stations and crime units.
"Our police personnel along with anti-riot equipment have been deployed all around. Metal door detectors have been installed at the public entry gate. The police will keep a close eye on every nook and corner. In terms of security, in addition to 26 companies of paramilitary and Haryana Police, 350 personnel of Nuh Police have been deployed to monitor different places," said SP Bijarnia.
The SP appealed to people not to touch any abandoned object, if found, at bus stands, railway stations and crowded places, because there may be a bomb or explosive substance in it. "Immediately inform the police about such unclaimed items".
(With inputs from PTI)